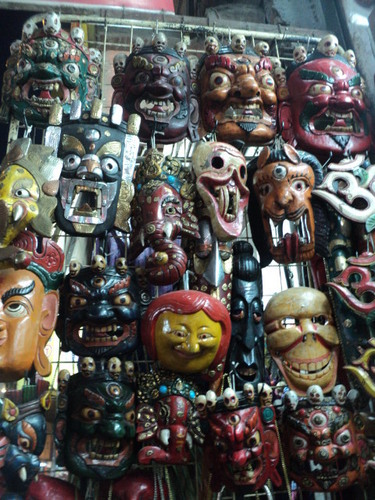 Product Description
Emerging a full from a distance, this Wooden Mask exhibits a powerful presence. This royal piece of art plainly shows the simple works of art can turn into a master piece of craftsmanship. The beautifully designed mask features an excellent finish that looks extremely classy and elegant. This epic piece of décor transforms the look of the place with its presence. Moreover, this Wooden Mask can also serve as a great gifting option for loved ones, family and friends.
Features:
Abrasion proof finish
Artistic design
Low maintenance
1.MIX OF 50 PCS OF WOODEN MASK IN MIX DESIGNS,MIX COLOURS. 2.SIZE STANDARD MIX AND MIX DESIGNS . 3.OFFER PRICES ASK FOR 50 PCS TOTAL. 4.ALL SHIPPING DOOR DELIVERY, PAYMENT CHARGES,COST PRICES ALL INCLUDED. 5.ANY DUTIES OR TAX IS EXTRA IF ANY COMES IN YOUR COUNTRY. 6.SHIPPING, DOOR DELIVERY, PAYPAL FEES EXTRA. 7.ALWAYS MIX COLOURS IN EACH MODELS AND MIX MODELS IN ORDERS.
Contact Us
N 3/65-3 S Karmajitpur, Near Ganesh Dham Colony, Newada, Varanasi, Uttar Pradesh, 221005, India
Phone :+918068341342